Branding is how the public perceives your brand. It's the personality of your brand, it's your identity.
According to brandingmag, by definition, is a marketing practice in which a company creates a name, symbol or design that is easily identifiable as belonging to the company. This helps to identify a product and distinguish it from other products and services.
Some tend to confuse branding with notoriety. Error! Notoriety represents the popularity of your brand especially since you have to work on your brand before you work on your reputation. It makes more sense to be well perceived before you become famous because once you are known from an angle, it is difficult to erase this idea in the mind of your audience. So, think first of all about your brand image that most often triggers your notoriety. How do you get a good brand?
1-HOW TO DEVELOP A GOOD BRAND IMAGE?
To develop a good brand image, here are the essential points you need to study:
Visual identity
The slogan
The content.
Personal branding
It all starts with your visual identity. Visual identity is what sets you apart from your competitors just at first glance. It is composed of the logo and colors of your logo which is up to three colors. Create a logo afterwards, complete with a slogan that determines in a few words the missions of your company. Example: Marketing Pro International's slogan is a vision for the future for businesses and top it's perfect! But that's not all there's obviously the content that has to follow.
We will never stop saying enough, content marketing remains the queen of the success of your digital marketing sales because, it is it that holds the message that will impact your audience. Whatever advertising campaign you've organized, you need the content that will accompany your campaign so, the content that is the first part of digital marketing comes once again into the branding why? because to have a good perception of your brand, you need content that attracts, entertains and converts.
So we have three main criteria for a quality brand: beauty, entertainment and calls to action that allow converting. Thus, your audience will be attracted by the aesthetic aspect of your content because it matches well-constructed graphics and videos that respect your visual identity, it will be entertained and interested in tricks that meet their needs, and will convert through the proposals of solutions you would bring. Your brand image is therefore determined by the beauty and quality of your content.
However, beyond the qualities of your services and its benefits for your audience detailed in your content, you can further improve your brand image with the qualities that are unique to you or your executive staff that are most often called personal branding.
Personal branding as the name suggests, is your personal marketing, marketing your professional skills and your ability to meet a need according to your field of activity. It's about highlighting your personality and your talents. It has a very important role because it further enhances your brand image.
According to digital marketing, personal branding is the practice of marketing people and their careers as brands.
Indeed, personal branding is intended to give a brand image to an individual, with consequences on the activity that you exercise simultaneously reason why, throughout the design of your marketing strategy, consider integrating the personal branding. Personal branding and content marketing therefore pace together.
2-HOW TO ORGANIZE A CUSTOM BRANDING STRATEGY?
To organize a personal branding strategy, nothing could be simpler. Just create blogs and professional pages as for a recurring activity and debate your skills while focusing on quality images and videos like any good content strategy but this time, your personal photos or videos where you intervene will impact more because it is your personal marketing.
In the card of an entrepreneurial activity, respect for visual identity is notorious to strengthen entrepreneurship and we solve it quite well with the CANVA tool.
Find templates on CANVA that you customize with your personal images and highlight the colors of your logo to make it look more professional. It's perfect you have an unlimited number of templates already designed to give you an idea to your design according to your theme that you can customize to fit your business and it's off to quality graphics.
But there's still plenty of surprises. You can add animations to your charts. Animations are an ideal way to engage, especially on social networks. Simply select the « Elements » tab in the side panel and search for « Stickers. » You can even search for GIFS and add them to your designs. Just find the « Plus » tab in the side panel and select GIPHY.
For the design of your videos, you can make videos directly on your digital device when it comes to your personal presentation or product tutorial or, you customize CANVA video templates through your images to make a presentation of your journey or your product. A wide selection of video templates is available to bring all your ideas to life in seconds. Plus, you can add music if you want with lots of free audio files to enhance the mood of your graphic or video creation. In the side flap, open the Music tab to browse the vast library.
So, ready to win your market with a cutting-edge brand image? Don't behing! Branding is your trusting capital with your audience as well, it significantly affects your sales. You have the tools at your fingertips to create a quality brand image: creating a blog, creating pages on social networks, and your CANVA graphic and video tools.
Contact us for an accompaniment or get it done faster on Fiverr.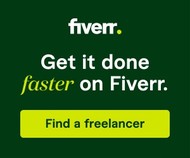 OUR FREE TIPS HERE