The video is a short film that allows you to express yourself orally or in an animated format what you want to convey as a message. It enters into digital marketing to be in direct contact with Internet users in order to enhance credibility. Video is an element of digital marketing that can be used across all digital channels and helps to reassure confidence in the existence and operation of your business.
1- What is the role of digital marketing video?
2- How to make a good video?
The video appears with the social network YouTube from the download. Technological developments allow downloading on other social networks including Facebook, Instagram, Twitter, Linkedin, Pinterest, Whatsapp…
1- WHAT IS THE ROLE OF DIGITAL MARKETING VIDEO ?
The video intervenes to explain the roles and the workings of the services you offer.
On the social network YouTube, which is an exclusive social network for videos, downloaded videos can range from 15 minutes and more and are recommended to be published weekly to further improve search results.
It's a nice alternative to the blog when you know that the blog also aims to explain the roles and operation of your products or services and a better substitute for it because an article with a YouTube link is even better referenced on search engines.
To optimize your YouTube search results, you need to write a specific title to your video, relevant keywords and a detailed description of the content, as well as fill your profile.
On professional pages, the video does not have the same role because it is not a question of publishing videos regularly at the speed of YouTube channel but it is a question of publishing a video or making a live to realize what has been posted beforehand , announcing an event, confirming an event or explaining something in relation to your page. This is an element that comes to explain in a few words all that has been posted before. It creates more impact compared to simple images. It is a call to action.
The duration of the videos on Twitter is 2minutes and 20 seconds maximum, linkedin 10 min maximum, Pinterest 15 minutes maximum, Facebook 120 minutes maximum.
Tip: For videos on Facebook, prefer to upload them to IGTV, which can make videos of up to 10 minutes and at the time of validation, choose the Facebook option so that your video is automatically uploaded to both networks simultaneously Instagram and Facebook. Don't make videos that are too long. A topic by video and in a quick way to say only the essentials to help your users get the most out of your video.
Note: Live videos have the same value as downloaded videos. The live ones have just the peculiarity of interaction during the video with the Internet users connected to the T moment.
2- HOW TO MAKE A GOOD VIDEO?
Making a good video goes through the software that allows the design and processing of videos or a smartphone that records videos and tone clearly to be shared. More and more nowadays, android phones allow magnificent creations of videos in a simple personal session.
All in all, the software will help you combine videos, add background music, have previously designed video themes that you just need to customize. We can cite some software to know like CANVA. You discover thousands of customizable theme samples for your sales charts and videos.
To record a beautiful personal video, choose a suitable place (environment) corresponding to the image of your company and your services, introduce your video with a short sentence of politeness and enter live in the heart of the subject to be interesting from the start. Be consistent in your words and give explicit solutions to the topic mentioned. You could then add a design with CANVA software and upload it to video sites, your business pages on social networks and insert a link in your blog posts or emails marketing.
Note: Never upload your live videos to your site or newsletters that could slow down the download of your web page or email. Always insert the link to your video and if necessary put an image on top that reflects your video.
Find out how effective Fiverr is for your marketing videos.
Need a YouTube channel, don't panic Fiverr freelancer design videos worthy of the name according to the theme of your company. The video has the role of convincing and provoking action! It's more impactful. Don't hesitate to integrate it into the management of your social networks.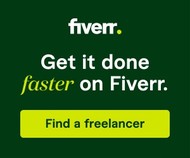 PLEASE OUR FREE TIPS HERE